It might make me crazy to people who had to shovel their driveway this weekend, but I'd rather be in snowy Pittsburgh or northern New Jersey than blue-skied L.A. on a football Sunday. The games are just plain and simply more satisfying with a little (or a lot of) inclement weather. That being said, let's start out with something blue under the shining sun. …
2011 MAJOR LEAGUE BASEBALL UNIFORM CHAMPION: Los Angeles Dodgers
Congratulations to the St Louis Cardinals on their new crown — dynamite stuff outta both teams in the Fall Classic — but the best threads in the game still belong to the Dodgers (and, unfortunately for L.A. baseball fans, Frank McCourt). The crisp whites and that distinctive Dodger blue (how many teams would be so bold to claim a primary color as their own?) are great, but the real key is the red number on the jersey. The Brooklynite who came up with it a century ago belongs in the Uniform Hall of Fame. Here's your top five:
1. Dodgers home white
2. Yankees pinstripes
3. Brewers home pinstripes
4. Orioles road greys
5. Tigers home whites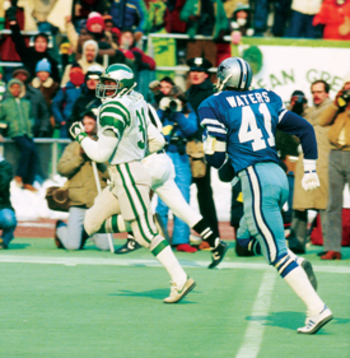 NFL UNIFORM MATCHUP OF THE WEEK: Cowboys at Eagles, October 30, 2011January 11, 1981
The Sunday night game offers a matchup of two desperate teams who happen to bitter rivals. Oughta be a dandy, but it'd be even sweeter if Andy Reid took a page from Dick Vermeil's 1980 NFC Championship Game playbook by making Dallas wear their blue jerseys … which, as we've discussed previously, were way better when they were royal blue rather than the current navy.
HORRIBLE COLLEGE UNIFORM OF THE WEEK: Ohio State
The Buckeyes got into the Halloween spirit by dressing like Lightning McQueen, but I doubt Woody Hayes would approve. C'mon, Buckeyes — you're not Oregon. Stop with the silly getups. You've already got great unis … featuring the best helmet stickers ever.
COLLEGE UNIFORM MATCHUP OF THE WEEK: Stanford at USC
People who say L.A. is a bad sports town likely have never been to L.A. to see a sporting event. In the same way Wrigley and Fenway conjure the mid-20th century, Chavez Ravine feels like a visit to 1967. The Rose Bowl is another gem. The setting sun and pastel sky rising above the San Fernando hills are lovely enough to distract even the most depressed UCLA fan from the lousy product on the field. But the Coliseum might be the best of 'em all, especially when you get those bold cardinal-and-gold getups on the field against the simple elegance of Stanford's road whites. Take note, Ohio State — Halloween is for kids. Football is for the fashionable.
* If you're not aware, I aspire to one day become the official Uniform Monitor for all sports. In the meantime, I work gratis for two reasons: 1. I have a deep passion for great uniforms, and 2. I have an equally strong distaste for some of the visual atrocities imposed on our eyeballs by various teams across the sports landscape (I'm talking about you, Jacksonville Jaguars, Seattle Seahawks, Oregon Ducks, Oklahoma City Thunder, Anaheim Ducks, et al).